During the morning and evening rush hours, getting stuck in a traffic jam at a destination not too far away is a headache for many office workers. As urban modernization increases, the commute convenience is becoming a pain point for more and more people. With petrol prices continuing to rise, commuting habits changing during the epidemic, more and more people are having to turn their demand of travel mode to electric scooters. Electric scooters are relatively inexpensive and can be used with public transport systems, making them a popular choice in times of high fuel prices. Moreover, this kind of travel tool has gradually appeared in the streets in the form of shared transportation.
After our investigation, we found that several electric scooter projects in operation in Europe, US and Southeast Asia are produced by Mankeel, a manufacturer headquartered in Shenzhen, China. We specially communicated with Will, the founder of Mankeel, about their shared electric scooter. Will told us that Mankeel was founded in 2013 and has been implementing successful projects of shared electric scooters from scheme to implementation since 2015. Mankeel is committed to delivering the smarter, yet simpler method of transportation using electric scooters. With the concept of "innovation" and "green", Mankeel shared electric scooter has emerged in the process of urbanization.
Mankeel made Sharing electric scooters on the streets of Italy
After a fun riding experience, I think the electric scooter developed by Mankeel is so easy to control, you just scan the QR code to unlock it, and the scooter can ride at a maximum speed of 25km/h. Compared with sharing bikes, it is more suitable for people in business attire and women in skirts. At the same time, wearing a backpack, the scooter seems more in line with the image of a Silicon Valley geek. And when an adult steps on a scooter, there may be a feeling of "returning to childhood".
Mankeel's sharing electric scooter object is aimed toward any customer who commutes short distances, whether it is for employment, recreation or visiting friends and family. Individuals who would usually walk, take public transport, drive or ride a bike to reach their destination can benefit from the sharing electric scooter.
Will said, the use of its shared scooter in March 2022 doubled from the previous month in European countries. Their March sales of private models of the electric scooters were up 70% compared to a year earlier, and traffic to their website was up 30% since international gasoline prices hit record highs earlier this month.
Bird, another British electric scooter manufacturer, feels the same way. Bird's scooter sharing service is also gaining traction, with the average number of daily rentals in London up nearly 70% in March compared to February.
"The growing acceptance of e-scooters has also led to a surge in the number of Facebook groups and posts on the social platform Reddit and our members in the community have grown from 1000 a year and a half ago to 38000, with about 12000 comments a day"
                                  - A Moderator who run Facebook "Scooter Guide"
Will said, Like shared bikes, Considering operating costs ,shared scooter operators generally choose densely populated cities as a breakthrough, so as to obtain high frequency of use and reduce the idle rate. But in these cities, where traffic is congested and public space is scarce, scooters are crowding out sidewalks and open spaces that already have limited space, leading to inevitable discontent.
When the sharing bikes were launched on a large scale in the past, they were criticized for "affecting the appearance of the city". The huge accumulation of sharing bikes also caused traffic jams, such as occupying empty Spaces with limited entrances and entrances in the subway. It puts an extra burden on city management. The same is true of shared scooters, which residents in San Francisco, for example, have complained about "flooding the streets."
Mankeel made Sharing electric scooter on the street of Russia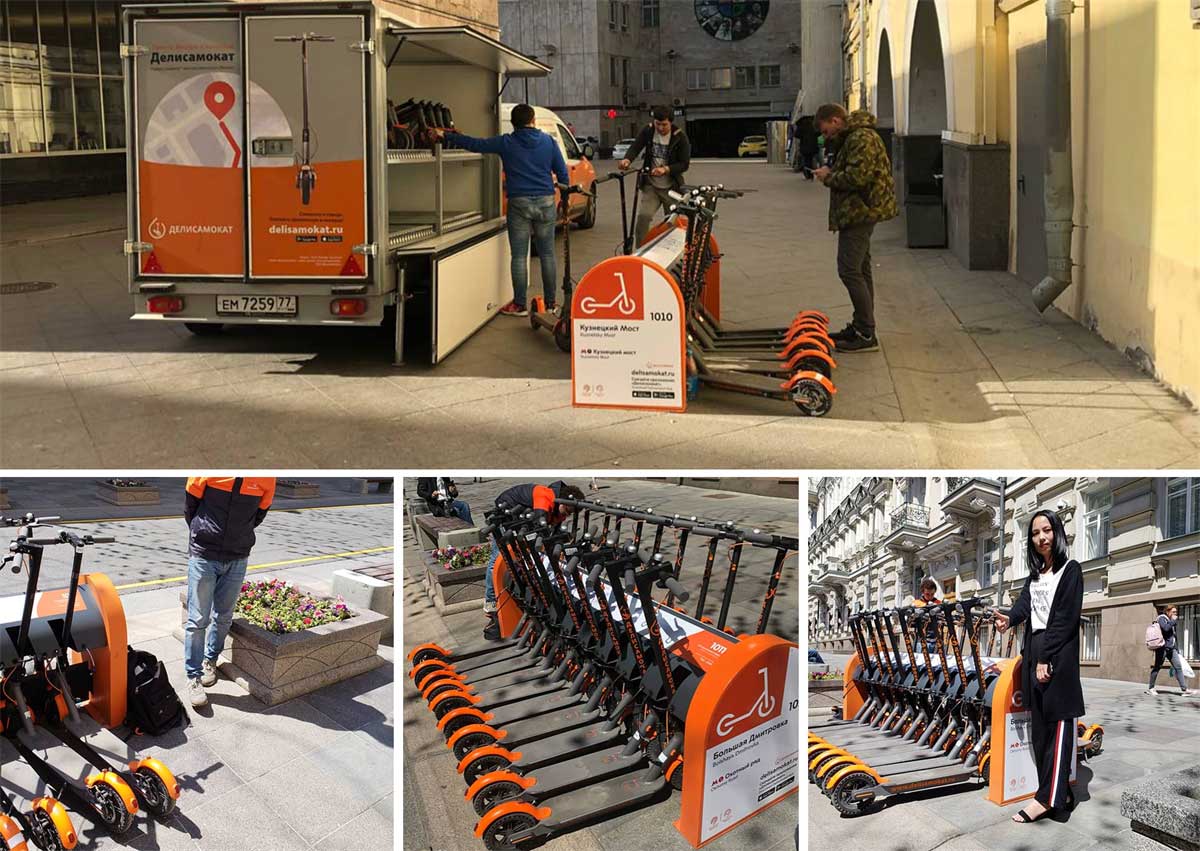 Mankeel made sharing electric scooter on the street of Poland
So, is it possible to solve the current situation that scooters affect the appearance of the city, hinder traffic and are highly dangerous?

Will replied that to solve the problem, for example, the Los Angeles has launched a one-year plan: allowing scooter sharing companies to apply for permission to place scooters in the city. But the plan has several requirements, including: no more than 10,500 vehicles; The speed of the scooter shall not exceed 24 km/h; Once a scooter obstructs traffic, the company has to remove it within two hours, etc. In addition, companies must be able to provide the real-time location of each scooter to help authorities gather data to formulate new policies. Mankeel, as a manufacturer of electric scooter that is mature in both hardware and software IoT technology, can do the front end to support the products of related policies.

Will also said that the Mankeel is working on a new technology to solving the troubles caused by the operation of shared electric scooters through technology. For example, as long as the location of each scooter can be monitored in real time, users can be alerted when it enters a speed limit area. Even more radically, if the scooter enters the pavement and hits something, it will automatically lock the vehicle and stop moving.

it is worth mentioning that shared electric scooters like the brand Mankeel have begun to change the way people choose to travel. It is foreseeable that in the next few years, the prospect of shared electric scooter is not just a mobile commute platform. Relevant laws, regulations and policies are more and more open to this new travel tool for urban life. As a pure electric, green and environment-friendly shared travel tool, it has become a trend that cannot be ignored.

Post time: Apr-28-2022